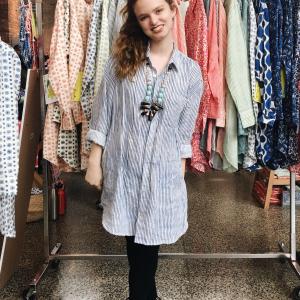 Molly Berman
Artist member since 2019
Toronto, Ontario
Molly Fletcher Berman is an emerging artist with a passion for colour and pattern. Growing up she could usually be found with a sketchbook in hand, and her marker collection has only grown since then. Her fine art works include a range of techniques that show off her education in textiles. Painted pieces include screen-printed fabrics, hand stitched threads, and patchwork sewing. These pieces are spontaneous explorations resulting in abstract compositions of cheerful colour and texture.
---
Beverage of choice
Strong coffee or a margarita
What artists do you admire right now?
Sarah Golden, Claire Desjardins, Emma Howell, Elizabeth Olwen
When did you start making art, and why?
I grew up making art. It was never a decision, it's who I am.
Best season of the year in Toronto
Spring! I love when the flowers start to pop up all over the city, and the rainy days.
Upcoming Exhibitions
Nathan Phillips Square, Toronto
Toronto Outdoor Art Fair
Select Past Exhibitions
2019
Better Living Centre, Toronto
The Artist Project
Residencies
2018
Toronto
Harbourfront Centre
SHARE THIS ARTIST